Having an attractive and functional website is essential in this digital age. Showit offers a modern solution for website building, allowing you to create captivating and personalized websites without any hassle. They provide a user-friendly interface for experienced developers as well as novices alike, making starting or revamping your website easier than ever before – showcasing your brand to its utmost potential.
What is Showit?
Showit is a website design and development platform that offers a unique and intuitive drag-and-drop interface for building websites. Unlike traditional website builders that use templates and pre-designed themes, Showit gives you complete control over your website's design, allowing you to create a custom look and feel that perfectly reflects your brand.
One of the key advantages of Showit is its flexibility. Unlike other website builders that limit you to a set number of templates or designs, Showit allows you to create a website that is truly unique and customized to your specific needs. Whether you're a photographer, blogger, small business owner, or anything in between, Showit has the tools and features you need to create a website that truly stands out from the crowd.
Another key advantage of Showit is its ease of use. The platform's drag-and-drop interface makes it easy to add, arrange, and customize elements on your website without having to write any code. This makes Showit an ideal choice for those who are new to website development or those who don't have a background in coding.
Benefits of Showit Website Development
Customization
Showit stands out due to its extensive customization capabilities. It gives you full control of the design and aesthetics of your website, enabling you to create an online presence that is unique to you. It provides you with the tools to customize a website with fonts, colors, and images that make your site unique.
User-friendly interface
Showit's drag-and-drop interface makes it easy to build and customize your website, even if you have no prior experience with website development. The platform's intuitive interface allows you to add and arrange elements on your website with ease, allowing you to focus on creating a stunning website that perfectly represents your brand.
Mobile Optimization
It is essential to have a site optimized for mobile use in this digital era, and Showit understands this. They have taken a mobile-first design approach that guarantees your website looks and performs great on devices ranging from smartphones to tablets.
Built-in SEO tools
Showit offers built-in SEO tools to help you optimize your website for search engines, such as Google and Bing. These tools help you to ensure that your website is optimized for keywords, meta descriptions, and other important SEO factors, which can help improve your website's visibility and ranking in search engine results pages (SERPs).
E-commerce integration
For effortless e-commerce integration, Showit offers compatibility with platforms like WooCommerce, Shopify lite, and Square. This makes it simple to manage your store, process payments, and fulfill orders all through Showit's easy-to-use interface.
How Showit Can Help Grow Your Business
Whether you're a small business owner, blogger, or freelancer, Showit can help grow your online presence and reach a wider audience. With its customizable designs, user-friendly interface, and built-in SEO tools, Showit offers a complete platform for building and launching a website that truly represents your brand. Showit also offers e-commerce integration, making it easy to set up an online store and start selling your products or services. With Showit, you can create a stunning website that will help you stand out from the competition and grow your business.
Once your website mockup is complete, what are the advantages of hiring a Showit developer?
Hiring a Showit developer after your website mockup is complete can be beneficial in many ways. A Showit developer can help you refine and optimize the design of your website, ensuring that it looks great on all devices and browsers. They can also provide valuable insights into how to best utilize the platform's features and tools to create an engaging user experience. Additionally, a Showit developer can help you set up e-commerce integration, making it easy to manage your store and process payments. Finally, they can guide SEO best practices to ensure that your website is optimized for search engine visibility. Hiring a Showit developer after your website mockup is done will ensure that you have a professional-looking website that meets all of your needs.
Showit developer vs Showit designer
For Showit websites, there are two primary roles to consider: Showit developer and Showit designer. A Showit designer has to develop the visuals of the website, selecting colors, fonts, and layouts, as well as creating unique graphics. A Showit developer is tasked with constructing the website using the platform's drag-and-drop system. They must also take care of e-commerce integration, make sure the website is responsive and mobile-friendly, and check every feature works exactly as intended. Creating a successful website with Showit involves two essential roles, each requiring different skills and experience levels. It is important to know what type of help you need for your website before hiring someone, so you can select the right role for the job.
Meet Sumonpro
I'm Sumon. I am an experienced Showit website developer and customizer, with more than 4 years of expertise, so I'm ready to help you make your online vision a reality. I specialize in creating custom, high-quality Showit websites that represent my clients' brands. If you need help with creating or customizing a Showit template, I have the expertise to make it happen. I can assist you in building a website that truly symbolizes your brand and helps you differentiate yourself in this current digital world. I have the expertise to transform your mockup into a Showit website that will embody your brand.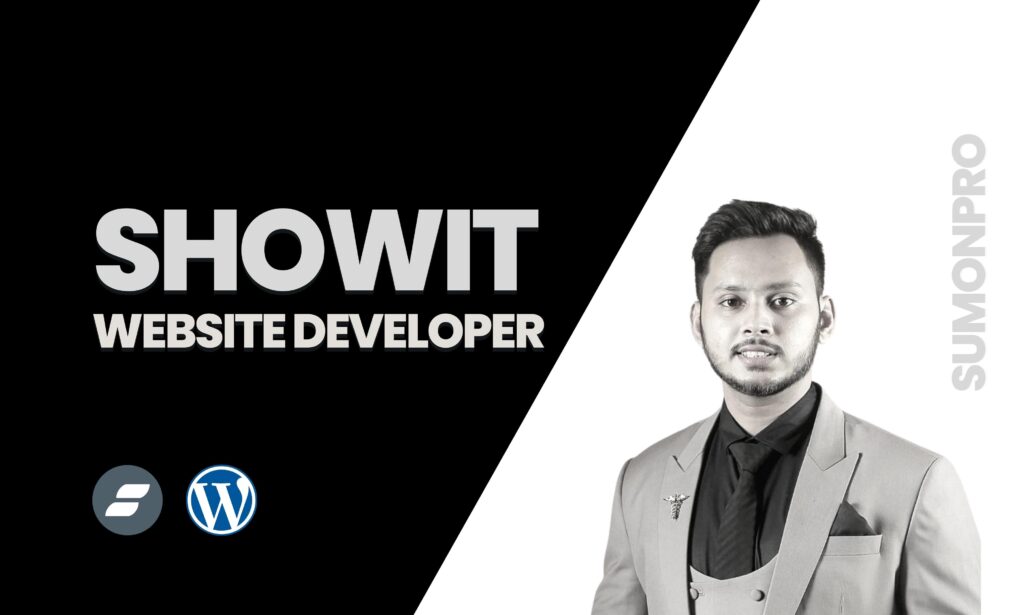 For custom-made website development, reach out to me now and I'll give you an individual quote so you can establish a unique online presence.